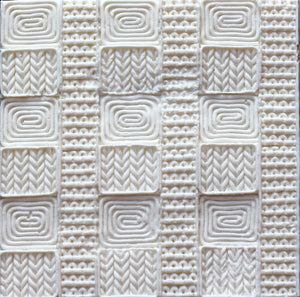 Handmade, silicone mold by Khristina Lagunova. This mold produces a beautiful tiled knit pattern. Easy to tile for a continuous appearance!
For best results, freeze your fondant for approximately 20 minutes, before removing from the mold.
Material: Food-Safe Silicone
Size: 8"x 8"
Compatible with: Fondant, gum paste, icing, modelling chocolate, isomalt, cookie, caramel and soft polymer clays.
Care instructions
Silicone items are dishwasher safe, however, hand washing in warm, soapy water will extend the life of your mold. To sanitize, you can also submerge in boiling water for 2-3 minutes.